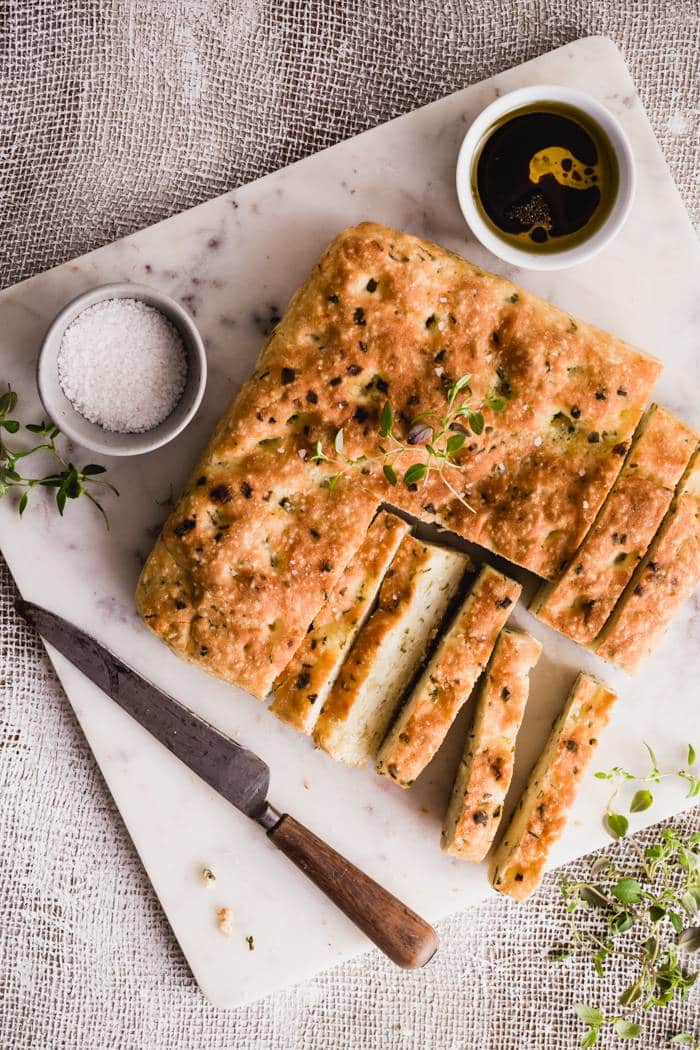 After a long hard winter, at least by Vancouver standards (it snowed! several times!) it's almost summer here. I bought my first pair of shorts in years. I thought I was too old for shorts, but a Google search about wearing shorts after forty assured me that as long as the inseam was at least 4 inches long, I was good to go.
Besides cute clothing, the other thing I obsess about in the summertime is food. Okay, I obsess about food all the time, but in summer it's particularly about the fresh produce, icy cocktails, and light desserts. For some reason, summer makes me also think about certain sorts of bready things like pizza and focaccia. Maybe it's because of the summer I spent as a student studying art history in Florence and tried every pizzeria and bakery within walking distance of my apartment by the Arno river. And when I say walking distance, that distance is generous, as walking in Europe is what people do. Walking is the reason I lost eleven pounds my first six weeks in Italy, despite the multi-daily helpings of pizza and pasta and gelato. It's a regimen that I tried to repeat at home, albeit without success.
Hip circumference be damned, I've caught the baking bug again. It's a phase I go through once in a blue moon, where I have this irresistible urge to make all manner of breads and pastries. The urge to turn on the oven strikes at the most inappropriate time–like during a heat wave, or when I'm procrastinating about getting image edits to a client. In the last two weeks I've made maple spelt muffins, a layered coconut cake with cream cheese frosting, strawberry jam filled pastries, carrot cake, and this focaccia.
I began baking when I was twelve. Baking is what first got me into the kitchen. What I didn't realize at that tender age was how precise one needed to be, and while eyeballing measurements often worked in cooking (and for my mother), it often lead to failures in the baking department. After dozens of rock hard cookies and eggshell flecked brownies, I abandoned my pursuits and turned to the saucepan, where my tendency to improvise and resistance to following recipes yielded better results. In the decades since, I have mostly left cakes and cookies in the domain of bakeries.
Until recently. Somehow I've began to take great satisfaction from rolling out puff pastry, or blending butter into flour with my fingers to make pie dough. I've realized how tactile baking can be, how connected you can feel to your food and what you're making through the contrasting textures of butter and flour slipping through your fingers, or the smooth sensation of dough beneath the heel of your hand as you pummel it to form a loaf of bread. Plus, it's very satisfying to pull a fragrant vanilla cake from the oven, or watch the faces of your loved ones light up as you set on the table a homemade lemon pie, with high, wobbly peaks of gold tipped meringue.
Baking has become like a mediation to me, where I can clear my mind, learn to pay attention. When I approach it as such, rather than another chore in my day, something to hurry through and get over with, I notice the rewards are many, and worth the half hour or hour it takes out of my life.
This focaccia recipe is a quick one, from Carol Fenster, who specializes in gluten free and vegan recipes and whom I have only recently discovered. I haven't tried substituting silken tofu for eggs, but if you're vegan or sensitive to eggs, Carol gives you the ratio to swap them out. The recipe calls for rosemary, but I like to throw in some extra herbs, like thyme leaves and chives. And of course, the olive oil with balsamic to dip it in is de rigueur.
Happy almost summer!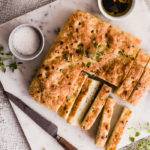 Gluten-Free Focaccia Bread
2017-05-29 17:20:06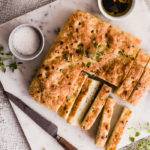 Nutrition Facts
Amount Per Serving
* Percent Daily Values are based on a 2,000 calorie diet. Your Daily Values may be higher or lower depending on your calorie needs.
for the bread dough
3/4 cup water
1 tsp sugar or honey
2 large eggs or 1/2 cup silken tofu
2 tbsp olive oil
1/2 tsp vinegar
1 1/2 tsp active dry yeast
1 1/2 cups gluten free flour blend (see below)
1 tsp unflavoured gelatin powder
2 tsp guar gum or xanthan gum
1 tsp dried rosemary
1/2 tsp coarse sea salt
for the topping
1 1/4 tsp Italian seasoning
1/4 tsp salt
1 tbsp olive oil
1 tbsp grated Parmesan or grated dairy-free cheese
for the gluten free flour mix
1 1/2 cups sorghum flour
1 1/2 cups arrowroot, cornstarch or potato starch
1 cup tapioca flour
1/2 cup almond or corn flour
Instructions
Grease a 11x7-inch nonstick or glass baking pan with olive oil.
In a medium mixing bowl combine warm water, sugar, eggs, oil and vinegar and beat until smooth.
Fold in the yeast, flours, gelatin, xanthan gum, rosemary, onion powder and salt.
Beat for 2 minutes. The dough will be soft and sticky, not like a usual bread dough.
Scrape the dough into the pan and cover with foil; let rise in a warm place for 30 minutes, or the until dough is level with the top of pan.
Preheat the oven to 400°F
Sprinkle the focaccia dough with all the topping ingredients, except for the cheese
Bake for 20-25 minutes, or until golden brown.
Sprinkle the bread immediately with cheese.
Allow to cool for a few minutes and then cut and serve.
Gastrostoria http://www.gastrostoria.com/