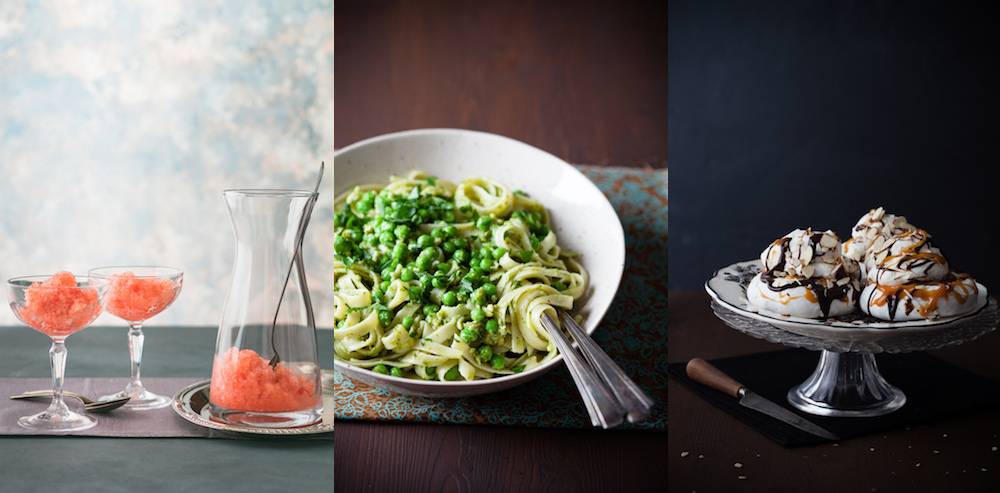 A tequila lime watermelon granita, pasta with summer herb pesto and peas, finished with a salted chocolate and caramel pavlova for a quick and easy summer lunch that impresses.
Where has the summer gone? I admit it has been a while in between drinks. The last couple of months have been manic for me, with juggling classes, and shoots, and all the minutiae of running a business–while trying to have a bit of a life. After a small and unintentional hiatus, I'm back today with not one recipe but three—for a beverage, main, and dessert. I hope this makes it up to you 🙂
These are simple recipes I have made and photographed in the last several weeks. They are perfect or a summer lunch, especially when you are short on time. You can even buy store-bought meringues to make the pavlovas, if time is really tight or you are prone to meringue failure.
Today I am baking and testing a new chicken dish. It's also the first day in weeks that I have had some time to sit down and browse through some of my favourite recipe books and think about what I'd like to make before summer completely fades, leaving me mournful about not having a chance to experiment with fresh berries or make buckets of coconut milk ice cream.
In the last year, I have been whittling down my book collection, as I am running out of room where to put them. Alas, I have had to face that I am likely to not reread War and Peace, nor other such classics. There were a few cookbooks that I realized I could also do without. Along with millions of other people, I read Marie Kondo's The Life Changing Magic of Tidying Up and has been following its advice. I pulled each book off the shelf and held it in my hands while asking myself if I used it enough, and did it really add something to my collection? I kept some of the lesser used books for the pictures, because this means something to me as a photographer. My books on French cooking were also left on the shelf, as it is still my favourite cuisine to cook. I realized that some of my best books were not the flashy, popular books on top of the Amazon lists, but ones that emphasized technique and following the right steps.
One such book is Delia's How to Cook by British doyenne of the kitchen, Delia Smith. Another favourite is Fat by Jennifer McLagan, a James Beard winner from several years ago. Rare is good food without fat and this book covers everything from bacon to tacos (with bone marrow, no less! yum!). Not only does it explain why you are in fact better off eating butter and lard than industrial seed oils, the recipes just plain work, a quality I find oftentimes lacking in the current cookbook offerings.
Another go-to for me is Essentials of Classic Italian Cooking by Marcella Hazan. This is a classic tome right up there with Julia Child's Mastering the Art of French Cooking. Everything I know about Italian cooking I learned from this book, most importantly that there is a lot more to it than pizza and pasta.
Being gluten-free, my experience of pasta is not quite the same as it used to be. That being said, it is still one of my greatest eating pleasures and my fallback when I am short on time, or am stumped about what to cook. The recipe below is for my summer herb pesto with peas. I adapted the pesto recipe from Marcella's basil pesto recipe, which includes butter, people! What is not to love?
I serve this pasta with a tequila lime watermelon granita and a pavlova with store-bought dulce de leche and chocolate sauce for a quick but impressive dessert.
I hope your summer so far has been a delicious one.
Linguine with Summer Herb Pesto and Peas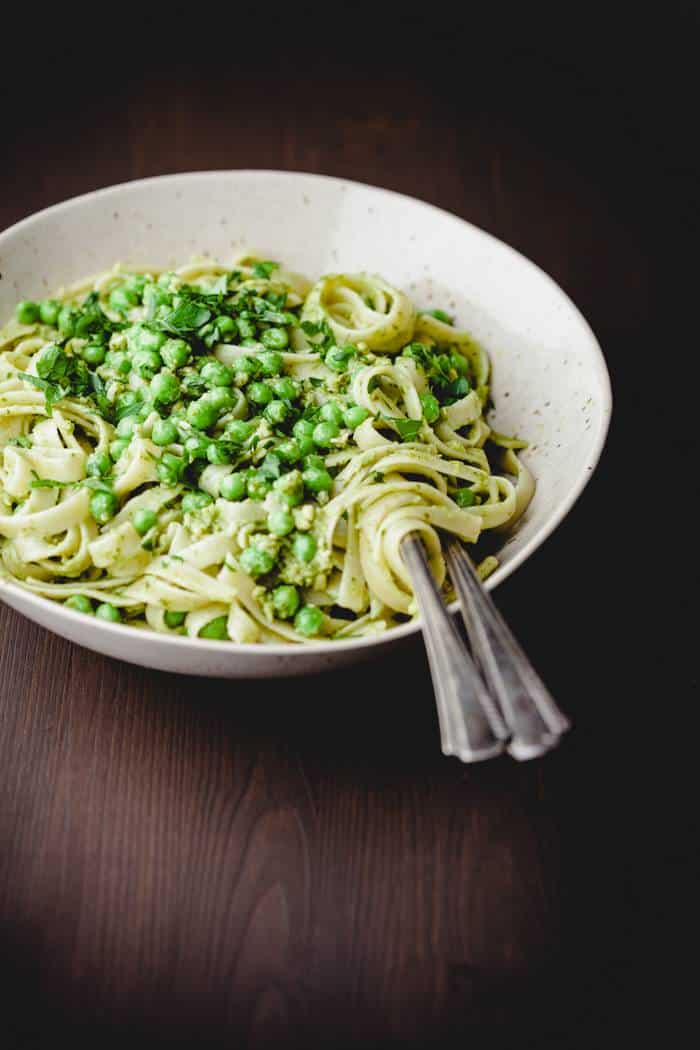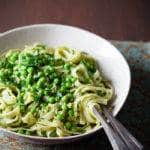 Linguine with Summer Herb Pesto and Peas
2016-07-24 15:17:00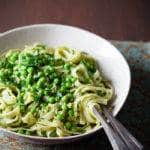 Serves 6
Pasta with peas and a fresh pesto of mixed summer herbs
Nutrition Facts
Amount Per Serving
* Percent Daily Values are based on a 2,000 calorie diet. Your Daily Values may be higher or lower depending on your calorie needs.
Ingredients
1 cup tightly packed fresh basil leaves
1 cup tightly packed Italian parsley
1 tablespoon oregano leaves
1 tablespoon thyme leaves
1 tablespoon rosemary leaves
1/2 cup extra-virgin olive oil
3 tablespoons pine nuts
2 cloves garlic, finely chopped
pinch of salt
1/2 cup freshly grated parmigiana-reggiano cheese
2 tablespoons freshly grated romano cheese
3 tablespoons butter, softened to room temperature
1 1/2 pounds linguine, cooked al dente
2 1/2 cups frozen baby peas, thawed
For the pesto
Wash the herbs well and pat dry with paper towels until they are thoroughly dry.
Put the herbs, olive oil, pine nuts, garlic, and salt in the bowl of a food processor and process to a uniform, creamy consistency.
Transfer to a bowl and mix in the cheeses by hand until evenly distributed in the pesto.
Mix in the butter until distributed uniformly throughout the sauce.
Notes
To serve the pasta, mix the linguine with the pesto and peas in a large bowl. Divide among six plates. Garnish with extra cheese and a bit of chopped parsley.
Be sure to add the cheeses and butter by hand rather than adding them to the food processor for a superior texture.
If you intend to freeze this pesto, do so without the cheese and butter; add it when thawed, just before using.
Adapted from Marcella Hazan
Adapted from Marcella Hazan
Gastrostoria http://www.gastrostoria.com/
Lime and Tequila Watermelon Granita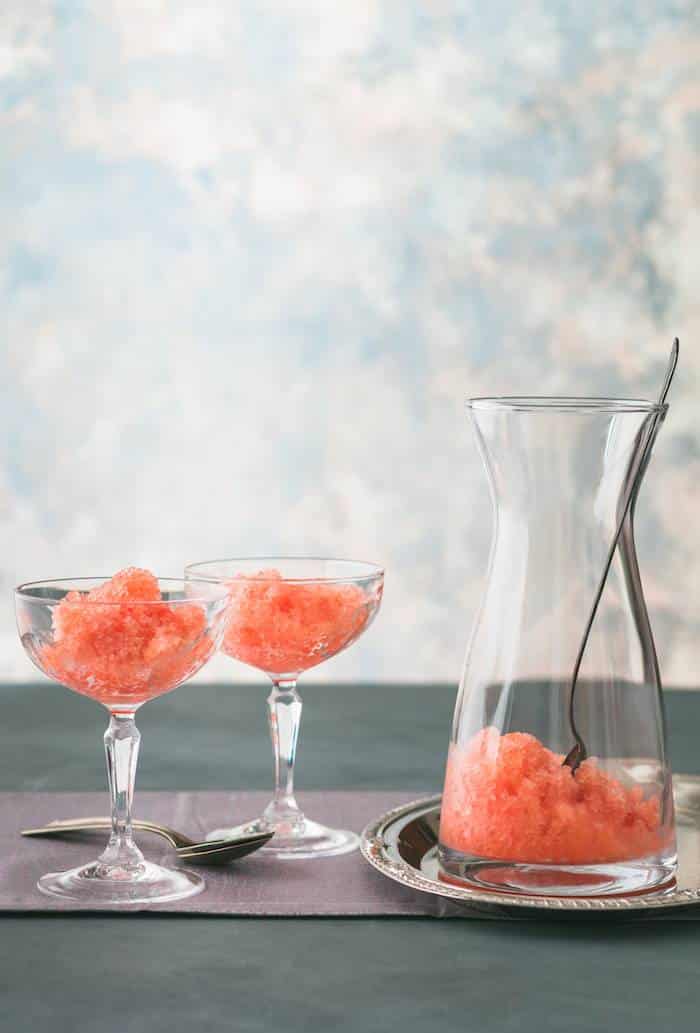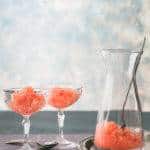 Lime and Tequila Watermelon Granita
2016-07-24 15:59:42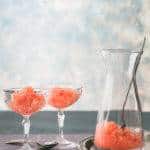 Serves 6
An icy summer drink with a little extra something-something
Nutrition Facts
Amount Per Serving
* Percent Daily Values are based on a 2,000 calorie diet. Your Daily Values may be higher or lower depending on your calorie needs.
Ingredients
8 to 9 pounds watermelon, seedless or seeds removed
1/4 cup fresh lime juice
1/4 cup agave syrup or honey
6 tablespoons tequila blanco
Instructions
Place all the ingredients in a food processor and process until smooth. Pour the mixture through a fine-meshed sieve into a baking pan that will fit in the freezer, pressing the mixture with the back of a wooden spoon to get as much juice out as possible. Discard the pulpy remains.
Transfer the filled pan to the freezer and freeze for about 6 hours.
When ready to serve, scrape the frozen mixture with a fork into a fluffy, snow-like consistency. Serve in attractive glasses or glass bowls.
Gastrostoria http://www.gastrostoria.com/
Salted Chocolate and Caramel Pavlovas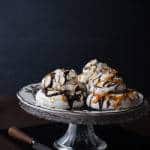 Salted Chocolate and Caramel Pavlovas
2016-07-24 16:21:36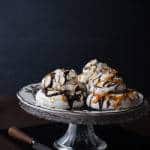 Serves 6
Nutrition Facts
Amount Per Serving
* Percent Daily Values are based on a 2,000 calorie diet. Your Daily Values may be higher or lower depending on your calorie needs.
for the meringues
6 egg whites
12 ounces superfine sugar
pinch of salt
to assemble pavlovas
1 cup whipping cream
3 tablespoons superfine sugar
6 tablespoons store-bought dulce de leche or caramel sauce
6 tablespoons store-bought chocolate sauce
1/3 cup sliced raw almonds, lightly toasted
Instructions
Preheat the oven to 300F
Put the egg whites into a large, very clean bowl and whisk on medium speed until firm peaks form.
Add a pinch of salt and 1/3 of the sugar and continue to whisk on high.
Gradually add the rest of the sugar, a spoonful at a time, until the mixture forms very stiff peaks, about 7-8 minutes.
Shape meringues into circular forms onto 2 baking sheets lined with parchment paper, leaving a well in the middle of each with the back of a spoon.
Bake in the oven for 60-75 minutes until crisp and dry on the outside.
Leave meringues to cool completely in the oven with the door open.
When ready to serve, whip whipping cream with an electric or stand mixer until thick and fluffy, adding sugar 1 tablespoon at time.
To serve the meringues, spoon whipped cream into the middle of each meringue and garnish with the chocolate sauce, dulce de leche and a pinch of coarse salt. Serve immediately.
Notes
Meringues can be made ahead of time and stored in an airtight container with a bit of cornstarch sprinkled on the bottom for up to 5 days.
Gastrostoria http://www.gastrostoria.com/