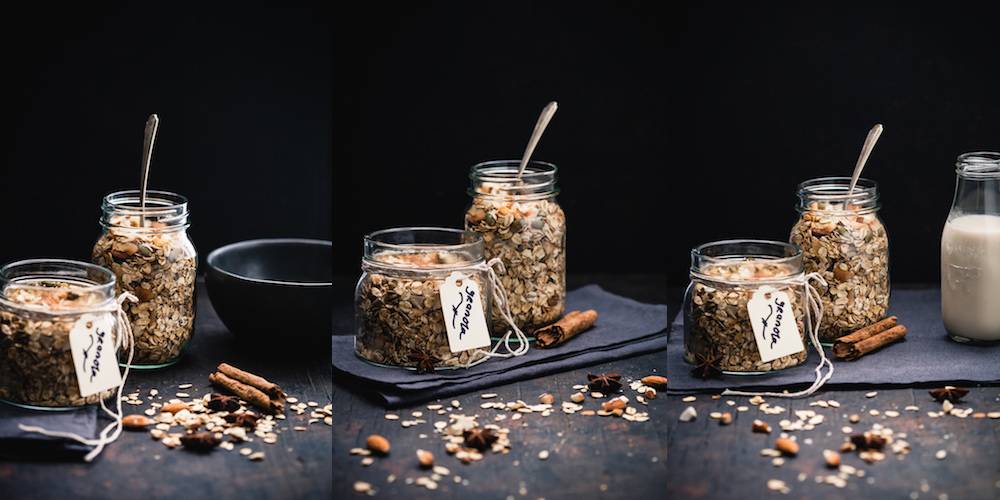 Homemade toasted granola with chai spices, raisins, coconuts, and almonds.
Is it a bit weird to write about granola on a blog whose tagline is "healthy twists on the world's most beloved dishes and cuisines"? What was hippie food in the 1960's has not only gone mainstream, but is enjoyed around the world in various incarnations, such as the Northern European muesli. Not only is there your basic Quaker granola, there is designer granola selling for twelve bucks a pouch because it has flax seeds and goji berries in it.
I'm not one to penny pinch when it comes to my food, but even I wouldn't pay that much for what I can make at home for a dollar. Oh and by the way, my Eastern European relatives laugh at me for eating oats. It's what they feed to the livestock.
So once a week I make a big batch of granola in my oven and eat it throughout the week. If I end up having eggs for breakfast, I sprinkle it on my yogurt for a snack or make an apple crisp. It rocks.
And I've become pretty creative with my ingredients and combinations. I have become the Frida Kahlo of breakfast cereal and oats are my canvas. This is my recipe for Chai-Spiced Coconut Granola, which I like to eat with cashew milk, followed by my morning coffee.
But don't have it with chai tea. That would be overkill.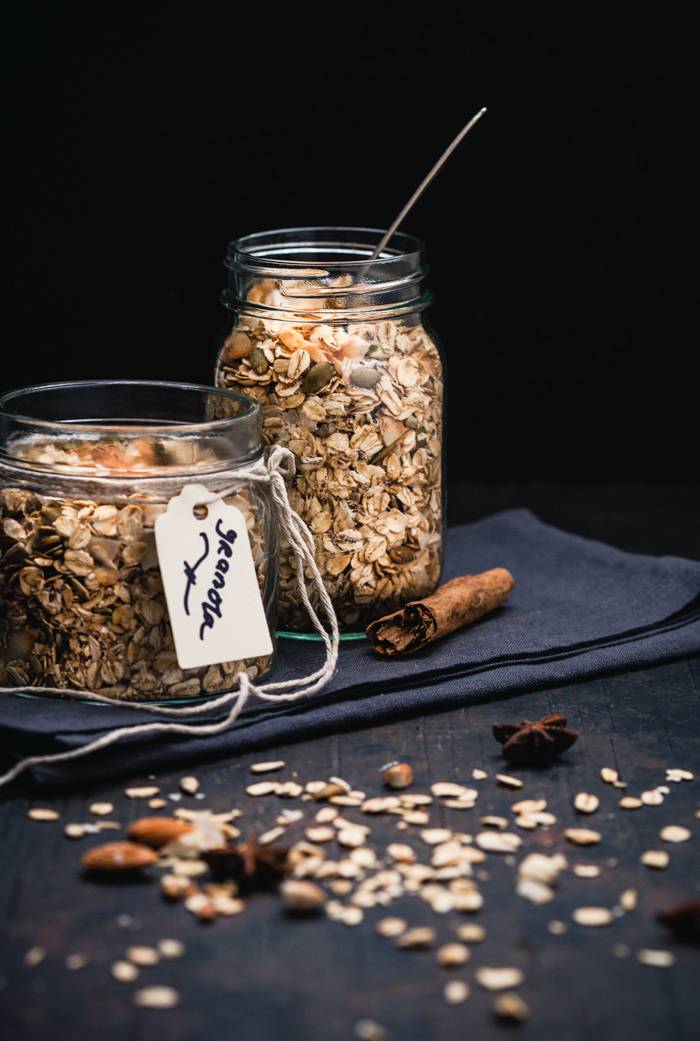 Chai Spiced Granola
2016-05-31 22:40:23
Granola flavoured with chai spices, coconut, almonds, pecans, and raisins.
Nutrition Facts
Amount Per Serving
* Percent Daily Values are based on a 2,000 calorie diet. Your Daily Values may be higher or lower depending on your calorie needs.
Ingredients
3 cups gluten-free rolled oats
1/2 cup / 75g Thompson raisins
1 cup / 100g organic coconut flakes
4 tablespoons maple syrup
3 tablespoons melted coconut oil
1/2 cup / 35g sliced raw almonds
1/2 cup / 35g pecan pieces
1/2 cup / 35g pumpkin seeds
1 teaspoon cinnamon
1/2 teaspoon ground cardamom
1/2 teaspoon ground ginger
1/4 teaspoon ground nutmeg
1/8 teaspoon allspice
1/8 teaspoon ground cloves
1/4 teaspoon salt
Instructions
Preheat the oven to 325F. In a large mixing bowl, combine the coconut oil with the maple syrup, cinnamon, cardamom, ginger, allspice, cloves and nutmeg with a small whisk or fork.
Add the oats, coconut flakes, almonds, pecans, pumpkin seeds and stir until evenly coated.
Spread the mixture on a baking sheet and bake for 15 minutes.
Take the granola out of the oven and push it around with a spatula to ensure it bakes evenly. Bake for another 10-15 minutes, until the granola is dry and golden brown and the coconut is toasted.
Remove from the oven and allow the granola to cool a few minutes. Combine with the raisin.
When completely cool, store in an airtight container.
Gastrostoria http://www.gastrostoria.com/