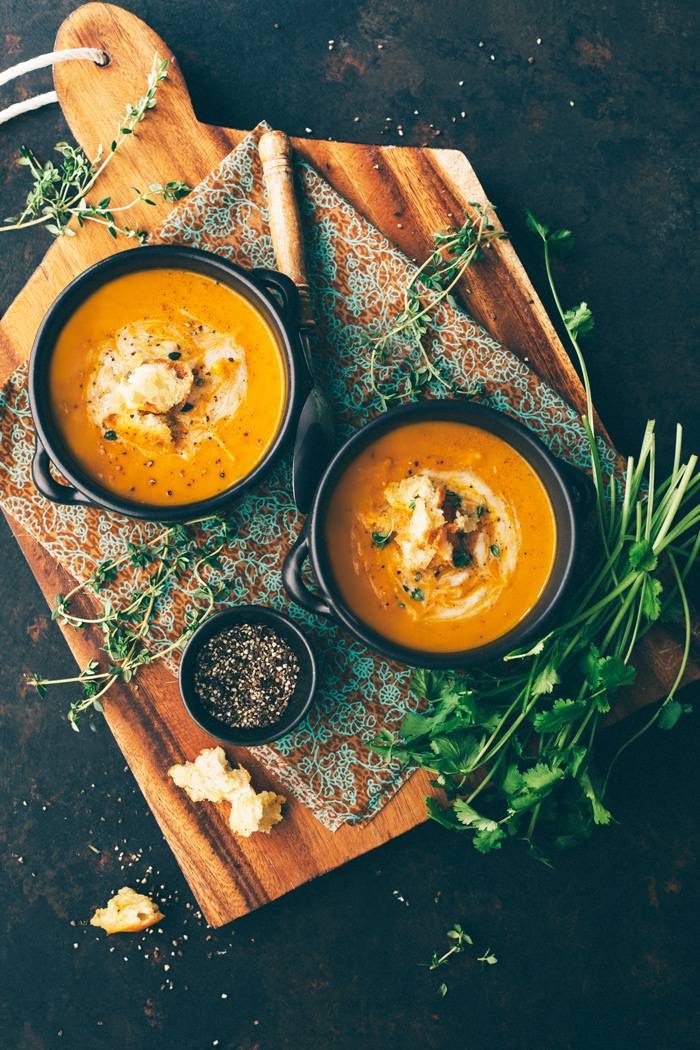 Spiced Carrot Ginger Soup with Coconut Cream. This lightly spiced, creamy carrot ginger soup is made dairy-free with coconut cream.
When I was growing up, dinner began with soup. So did Sunday lunch. A Hungarian friend says the same. So do many of my friends who were raised outside of North America, or whose parents were immigrants. Soup has long been a part of food traditions around the globe, but for most of my life, I have thought of soup as waste of space, taking up valuable real estate in my stomach and preventing me from eating my fill of the most delicious part of the meal–the part I could sink my teeth into. I understand now, this is entirely the point.
My reluctance around soup was that it rarely ignited my creativity and I rarely found one that I truly loved–until I had an amazing butternut squash soup one Christmas Eve in Mexico that I will not soon forget. It was spiced–not spicy. I learned there is a difference. It had an incredibly velvety texture, was at once richly creamy yet surprisingly light. To my surprise I found myself wanting a second bowl. I have not recreated that squash soup, but I now regularly make this carrot and ginger soup, and it is the favourite in my repertoire. Even my partner Pavel, who is my equal as a disdainer of soup, loves this one.
A couple of notes. I always put the coconut milk in the fridge to make the thick cream rise to the top and then skim some of it off and save it for the garnish. I swirl some of it on top of the soup and do this fancy thing with a toothpick that makes my soup look like it has a little cobweb on top. It looks very gourmet. Then I add a teeny bit of chopped cilantro for some green and a few homemade croutons. I make them by drizzling little chunks of the best (gluten-free) bread I can find liberally with olive oil, and seasoning them with an all-around rub that I keep in my cupboard, before throwing them in the oven to toast on low heat until crisped and golden. Although I tend to eat this all winter long, I sometimes chill it and have it cold during the warmer months and it tastes just as good to me.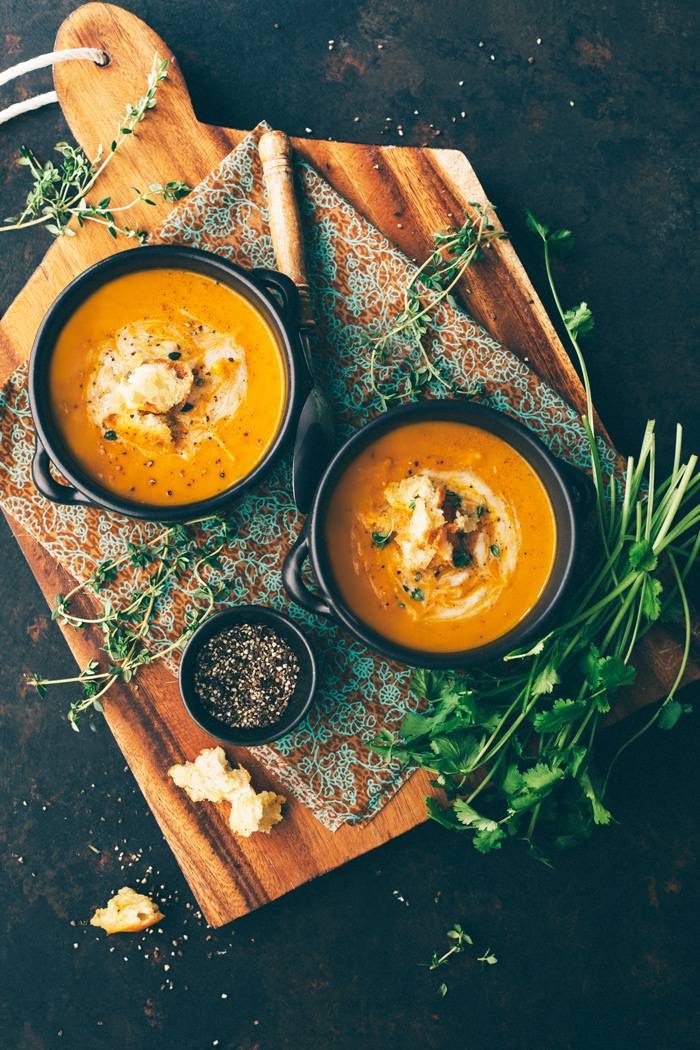 Spiced Carrot Ginger Soup
2016-05-09 16:37:20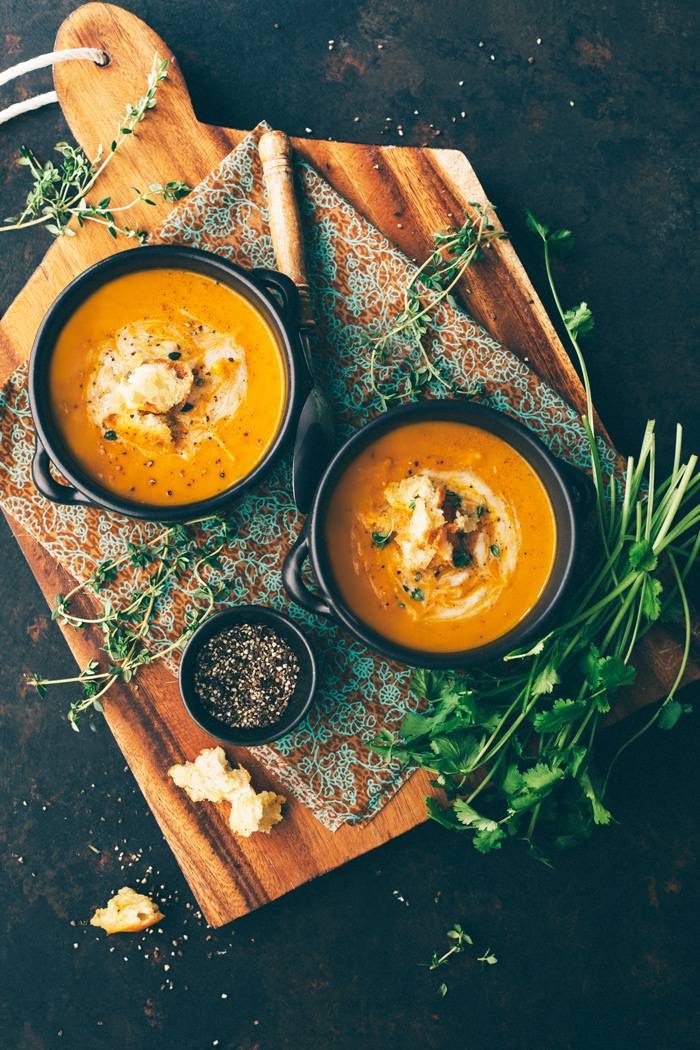 Serves 4
Spiced Carrot Ginger Soup with Coconut Cream.
Nutrition Facts
Amount Per Serving
* Percent Daily Values are based on a 2,000 calorie diet. Your Daily Values may be higher or lower depending on your calorie needs.
Ingredients
1 litre vegetable stock
1 small yellow onion, finely chopped
1 tablespoon olive oil
2 teaspoons garlic, finely minced
1 small red chilli, seeds removed, finely chopped
700 grams raw carrot, cut into chunks
1 large sweet potato, cut into chunks
2 tablespoons coconut palm sugar
1 tablespoon fish sauce
2 teaspoons finely grated ginger
1/2 tablespoon black pepper
1 teaspoon salt
2 tablespoons maple syrup
1 tablespoon lime juice
1 can coconut milk, with some of the cream reserved for garnish
chopped cilantro, for garnish
croutons, for garnish, if desired
Instructions
Heat the olive oil in a large pot over medium heat. Add onion and cook for 2-3 minutes, until softened.
Add the garlic, chilli, ginger, salt and pepper and stir for another minute. Add the stock and increase the heat to bring it to a boil.
Once the stock is boiling, add the carrot and sweet potato. Reduce the heat to medium low and simmer until the carrot and potato are tender when pierced with a fork--about 25 minutes.
Set the soup aside to cool. When the soup is still warm but not hot, puree with an immersion blender (or use a regular blender) until smooth.
Add the coconut sugar, fish sauce, maple syrup, lime juice and the coconut milk to the soup and reheat on medium heat while stirring often.
To serve, ladle soup onto bowls then swirl some of the coconut cream over top. Garnish with finely chopped cilantro and croutons, if desired.
Notes
Be careful when blending the soup in a regular blender. If it is too hot the pressure can cause the the soup to "explode" all over your counter. Hold the top down firmly with a tea towel and blend in batches to avoid overfilling the blender.
Gastrostoria http://www.gastrostoria.com/