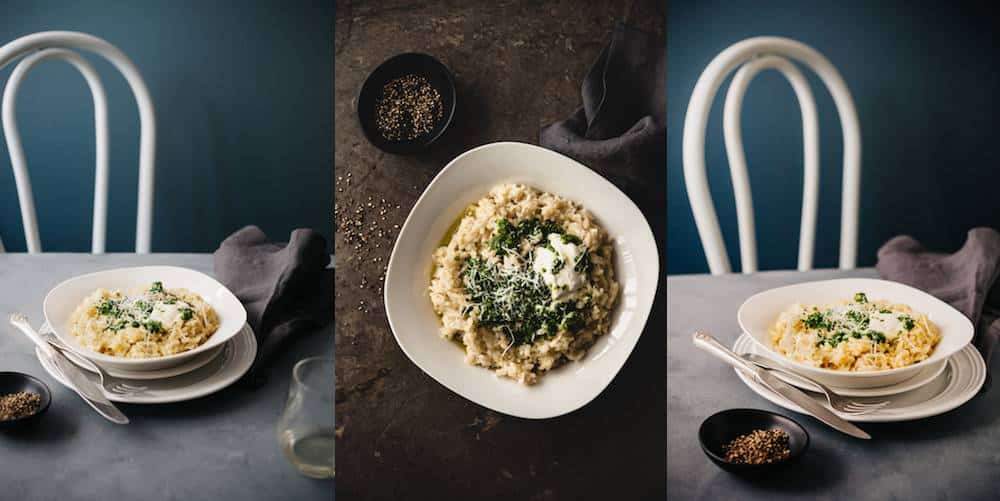 A classic cheese risotto that serves as a blank canvas for any variety of ingredients. Pictured here with pesto and crème fraîche.
The weather that summer was so much hotter than I was used to in Vancouver. The heat shimmered off the streets and I needed my second shower of the day by the time I got to class in the mornings.
Florence, Italy lies in a valley, with the Arno and three other minor rivers flowing through it. I had been sweltering under the Tuscan sun for a whole month before I discovered a spot by the river two blocks from my apartment where the Italians stripped down to their underwear and found relief from the oppressive humidity.
This is where I met Lucca, a longhaired Florentine art student who looked like Anthony Kiedis from The Red Hot Chilli Peppers. Unlike a lot of young expatriates in Italy, I was not looking for romance. I was having too good of a time hanging out with newfound friends from all over the world. I let Lucca take me home from the river because I wanted the experience of riding on the back of a moped. I agreed that he could see me the next day because he persisted in his Italian way and I didn't know how to say no.
The next day I took a train to Viareggio on the Italian Riviera with my German roommate. When we came back at nine o'clock that evening, to my surprise a slight disgruntled Lucca was waiting at my door, ready to take me dinner.
And so it began. He took me to an authentic Neopolitan style pizzeria tucked away from the busy tourist places and showed me how Italians drizzled olive oil over their paper-thin pizza, which had one or two toppings at the most. He showed me where to buy the best gelato and espresso and led me to a grocery store where the locals shopped—another discovery for me in the narrow labyrinthine streets of this ancient little city. Later, he would take me to Venice and Bologna and back to the Riviera, but now he was in my kitchen, teaching me to make risotto.
At twenty-three, I had already been an enthusiastic experimenter in the kitchen for several years but had never even heard of risotto until one of my roommates made the instant kind you buy in a pouch, like Lipton noodles. I wasn't the biggest fan of rice then, but the risotto had looked creamy and delicious, even if it came from a package. In my world, every food was made better with butter, cream or a sauce.
Although I shared the three bedroom apartment with five other students, no one was home and Lucca and I had the kitchen to ourselves. Except for someone's blaring television, it was so quiet that I could hear the hum of the refrigerator, and the sizzle of the rice as he dropped it into the hot oil and began to quickly stir. He explained that the oil needed to toast the rice before he added a large splash of white wine and cooked it off while continuing to stir.
The stirring. This I learned from Lucca, is the all important element of a good risotto. And that you need to salt the rice before adding the liquid, so it penetrates the grain, or you will end up with unsalted rice in seasoned broth, which Lucca made very clear would bring about a disastrous result.
He had stock simmering in another pot on the stove and ladled some in when the rice began to stick to the pan.
"Every time the liquid evaporates, you add more. But you always wait until it is completely absorbed first." He ran a wooden spoon through the risotto to show me that if liquid filled the pocket it left behind, there was still too much.
Lucca had me take over the stirring. I repeatedly added broth in smaller increments as the rice cooked. In this simple act I learned an important lesson about cooking that day, in how it is all about coordination, developing an intuitive sense of what is needed, what it takes for ingredients to cooperate. In the years that would come after this day in my Florentine kitchen, I would order many a poorly cooked restaurant risotto and recognized where the chef had gone wrong, until I would only eat a risotto that I myself had made.
When the risotto was cooked al dente, Lucca instructed me to add one last splash of broth, followed by a knob of butter and a healthy grating of Parmigiano—stirring all the while, of course. He then covered the risotto and briefly set it aside while he grated some extra cheese and I set the table for two.
"Risotto is a blank canvas," Lucca declared as we sat down with a bottle of wine. He had a way with artistic metaphors. "Like pasta. You could make any variation." We had made a simple cheese risotto, which remains my favourite to this day—probably because it was my first.
"Cin cin." We clicked glasses, our eyes linking, holding. Neither of us said anything as we began to eat the risotto. I'd never had it before, but knew enough about food to recognize what I was eating was impossibly good. That every grain was cooked perfectly to a plump yet firm texture and the sauce that had resulted from the alchemy of the broth and starch in the rice was exactly how it was supposed to be—not a fraction too thick or too thin. The distinct fruitiness that characterizes an authentic Parmigiano lingered on my tongue after each bite.
"Well?" Lucia raised his eyebrows. "What do you think?"
I sighed. "I think I finally know happiness."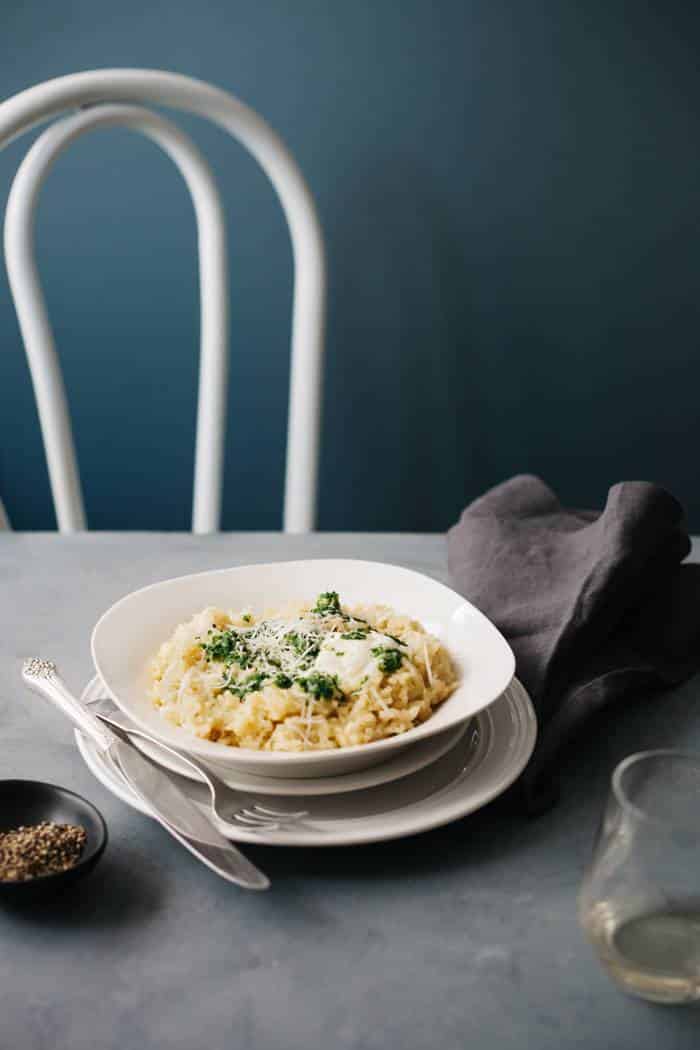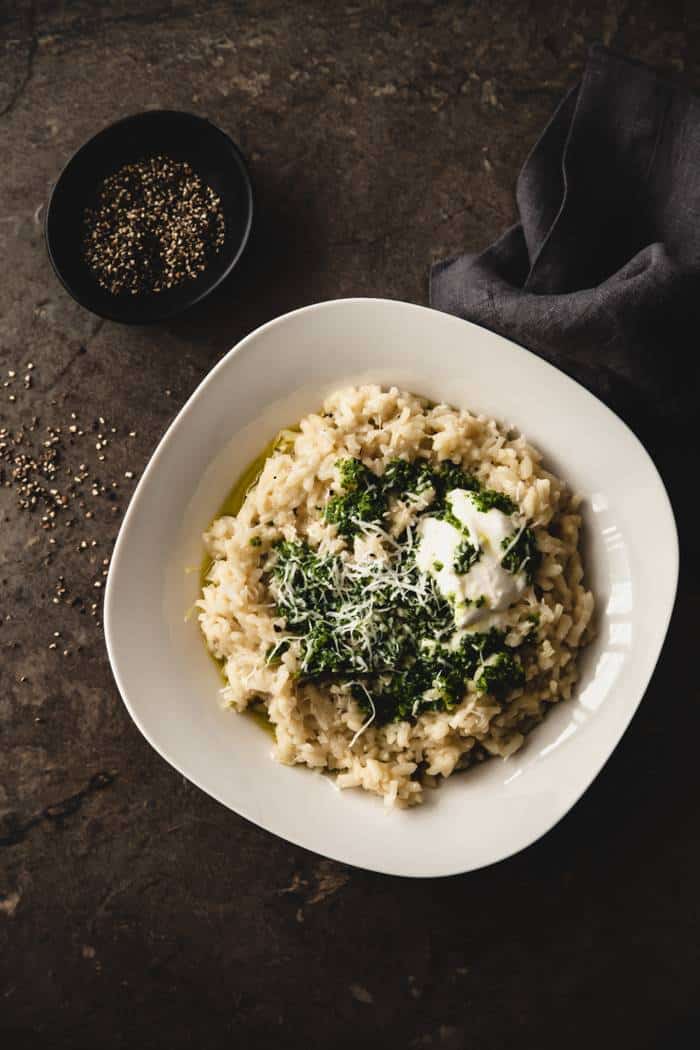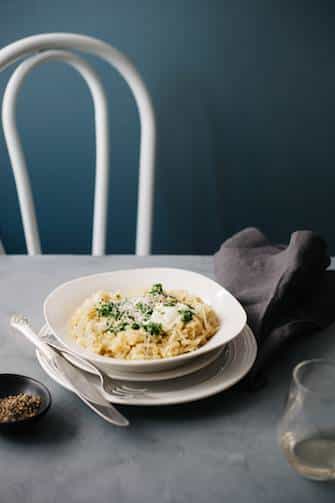 Risotto alla Parmigiana
2016-05-03 16:50:27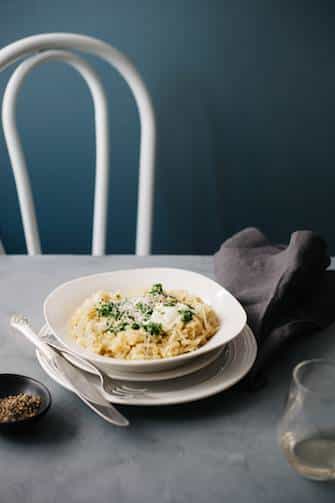 Serves 4
A basic risotto with Parmigiano Reggiano cheese. A blank canvas for a variety of ingredients.
Nutrition Facts
Amount Per Serving
* Percent Daily Values are based on a 2,000 calorie diet. Your Daily Values may be higher or lower depending on your calorie needs.
Ingredients
1 tablespoon/15g olive oil
2 tablespoons/30g unsalted butter, divided
1 small yellow onion, finely chopped
2 cloves garlic, minced
1/2 cup/120ml dry white wine
2 cups/400g arborio rice
1.5 litres hot low-sodium chicken stock
1 teaspoon/5ml salt
1/2 teaspoon/2.5ml cracked black pepper
1/2 cup/finely grated Parmigiano Reggiano cheese, plus more for garnish
Instructions
Heat the broth on the stove over high heat. When it starts to boil, lower the heat and keep it at a gentle simmer.
Melt 1 tablespoon butter and the olive oil in a seperate saucepan over medium heat. Add the onion and sauté, stirring often, until translucent--about 4-5 minutes. Add the garlic and continue to cook for another minute or so.
Add the rice and season with salt and pepper, stirring to coat the grains.
Once the rice starts to toast to a golden colour and stick to the bottom of the pan, add the wine and cook, stirring until the liquid has evaporated.
Add 1/2 cup of the stock to the rice while stirring; stir constantly until it is absorbed; continue to add stock, reducing the amount of stock slightly with each addition, ensuring the stock is always absorbed before adding more. Be sure to stir constantly.
Remove from heat and stir in the butter and Parmigiano and a little splash of stock.
Divide the risotto between four plates and top with more cheese. Serve immediately.
Notes
The risotto is ready when a wooden spoon cut through the rice does not fill up with a pocket of liquid.
Gastrostoria http://www.gastrostoria.com/